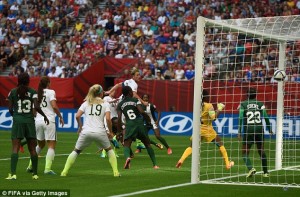 I loved the start of Alex Morgan and Abby Wambach in USA v NGA!  I expect to see these two stars start the rest of the way.  Their time is now. The USA must begin to peak if they expect to hoist the Cup on July 5th.  If chemistry is the strength of Morgan/Wambach up front then let us see it.  LeRoux is an exceptional threat off the bench with her speed. Opposing defenses will find it difficult to keep pace with her in the 60th plus minute with her fresh legs and team best, blazing speed.
The USA gets Colombia in the round of 16 game on Monday night at 8pm on Fox Sports.  I tweeted this after Sepulveda made a crucial error, regardless of whether you think it was or was not a foul.  She should have not contested that ball period.  As a result, she is out for the USA game. Maybe, this is the good fortune the USA needs to finally get over the hump of not having won a Cup since 1999.  (The infamous Brandi Chastain ripping off her shirt game.) More will be revealed. I still think the Colombians are dangerous with Sepulveda. Pressure will be at a maximum for all games as it is single elimination…lose and you go home.
#USA

plays #COL

this Monday night 8pm @FOXSports1! Fortunately for USA, #Sepulveda, Colombia's starting GK, is out. #redcard #wwc #letsgo
Here are a few tweets on the latest WWC2015 numbers.  Women's soccer is an untapped market!
#USAvNGA delivered 5 million viewers to @FOXSports making it the most-watched FIFA #WWC Group Stage match ever. Tysm @jacobu @jdneal! #love
WOW!–>Overall, the 3 #USA Group matches on FOX & FS1 averaged 4.3 million viewers, up 207% over the 1.4 mil viewers in 2011 on ESPN. #WWC